Baptism Ceremony in Kilbrittain

Baptisms can be arranged individually with Fr Cremin. Sunday baptisms take place only after the 10.30 am Mass. Apart from that, there is no restriction on day or time provided Fr Cremin is available. You are also welcome be bring your own priest -- contact Fr Cremin to arrange the date.

The parish has a trained Baptism team who can visit your home and speak to you about the ceremony. Contact Fr Cremin if you would like to discuss this.

You will need to bring:
A white shawl or Christening Gown. This is worn by the baby to signify that his/her soul has been made white again through the removing of the stain of Original Sin
A candle. Special Baptism Candles can be bought in most newsagents, though an ordinary candle will do as well. This candle will be used again for your child's First Holy Communion and Confirmation.
The child's Birth Certificate. This will be returned to you at the end of the ceremony after checking the information and noting the serial number.
(The Baptism Information Form (see below) must have been submitted at least a week before the ceremony, either in paper form or electronically.)

The full text of the Baptism Ceremony can be downloaded from this link: Rite of Baptism or by clicking the MSWord icon on the right. You may choose to have family members take part by doing the scripture reading and/or by sharing the Prayer of the Faithful. There is no obligation or expectation with regard to this.

There is an Information Form to be filled in before the Baptism. The information sought is necessary for updating the Baptism Register of the Parish. All information provided is treated in strict compliance with data protection laws and practices.
This form must be submitted at least a week prior to the ceremony.

- You can obtain a copy from Fr Cremin, either at his house or in the sacristy OR
- You can download a PDF by clicking using this link:
Baptism Form OR

- You can fill out the online form and submit the information electronically by using this link: Web Form.


QUICK ACCESS PANEL
Download text of Ceremony

Download Registration Form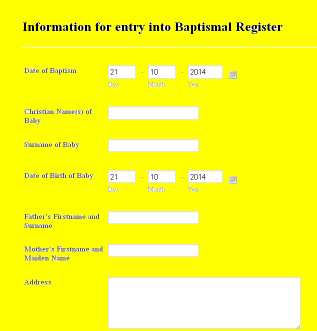 Go to Webform for Electronic Submission